●Mousse

Photo #1

Photo #2

Photo #3

Stir cream cheese until soft.

Heat milk in a saucepan until it comes to the boil.

In a bowl, cream together egg yolks and sugar. (Photo #1)

Quickly stir the hot milk into the egg yolk mixture.

Pour the mixture back into the saucepan and place it over heat. Stir constantly with a spatula until the mixture thickens. (Photo #2)

Place the saucepan in a larger bowl of ice water and allow the mixture to cool.

When the mixture is cooled, add the cream cheese and blend well. (Photo #3)

Transfer the mixture into glasses and refrigerate until set.


●Topping

Photo #1

In a bowl, combine whipping cream and 4g of sugar. Beat until stiff. (Photo #1)

Pipe the whipped cream on top of the chilled mousses.



Servings per Recipe
Calories per Serving
Ready In
3
three glasses
416kcal
120 minutes
Mousse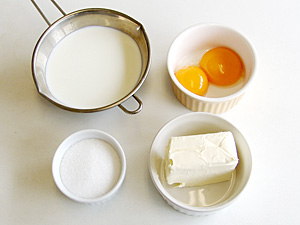 | | |
| --- | --- |
| milk | 150g |
| egg yolks | 40g |
| sugar | 50g |
| cream cheese | 100g |
【Preparation】
- Allow cream cheese to soften at room temperature.


Topping
| | |
| --- | --- |
| whipping cream | 100g |
| sugar | 4g |