●Cookie Dough

Photo #1

Photo #2

Photo #3

In a bowl, cream together butter and sugar.

Add beaten egg and blend well. (Photo #1)

Fold in flour and mix until well combined.

Roll out the dough to 5mm thick in a baking pan. (Photo #2)

Bake in a preheated oven at 180 °C (365 °F) for about 15 minutes until golden. Allow the cake to cool. (Photo #3)


●Chocolate Batter

Photo #1

Chop chocolate.

Roast sliced almonds in the oven until golden.

Place cream in a bowl or saucepan. Place over heat and bring the cream to a boil.

Add the chopped chocolate and melt. Mix in almonds. (Photo #1)


●Finish

Photo #1

When the chocolate batter is being cooled and becomes creamy, spread it over the baked cookie dough and make a thick chocolate layer. (Photo #1)

Let chill in the refrigerator until solid, then cut into 3cm squares.



Servings per Recipe
Calories per Serving
Ready In
4
one 12cm X 15cm baking pan
424kcal
120 minutes
Cookie Dough
| | |
| --- | --- |
| butter | 50g |
| sugar | 20g |
| whole egg | 30g |
| cake flour | 50g |
【Preparation】
- Allow butter to soften at room temperature.
- Sift flour.


Chocolate Batter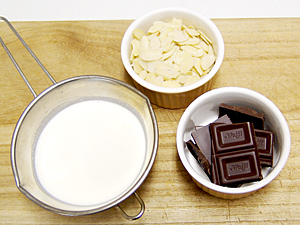 | | |
| --- | --- |
| whipping cream | 100g |
| chocolate | 50g |
| sliced almonds | 50g |