●Sponge

Photo #1

Photo #2

Photo #3

Photo #4

Photo #5

In a bowl or a saucepan, melt butter over low heat or by double boiling.

Combine eggs and sugar in a bowl. Place the bowl over low heat or in a double boiler and beat the mixture until creamy and heavy. When the mixture becomes lukewarm, remove from the heat/double boiler and continue beating. (Photo #1)

Sift in the dry ingredients to the egg mixture. Mix lightly.

Stir in the melted butter. Mix well to combine. (Photo #2)

Pour the batter into a round pan. Bake in a preheated oven at 180 °C (365 °F) for about 30 minutes. (Photo #3)

While baking, mix sugar syrup and orange liqueur.

When baked, slice the cake into two equal layers. Brush with the syrup generously on the cut surfaces. (Photo #4)

Spread marmalade on top of the bottom layer and place the top layer back on. Spread marmalade again on the surface. (Photo #5)


●Chocolate Cream

Photo #1

Finely chop chocolate.

Pour cream into a saucepan. Place the saucepan over heat and bring the cream to a boil.

Fold in chopped chocolate and stir to combine. Remove from the heat and allow the cream to cool until lukewarm. (Photo #1)


●Finish

Photo #1

Place the cake on a rack. Pour the chocolate cream over the cake and coat evenly. (Photo #1)

Sprinkle with confectioners' sugar, then top with Christmas decorations.



Servings per Recipe
Calories per Serving
Ready In
6
one 12cm round pan
405kcal
120 minutes
Sponge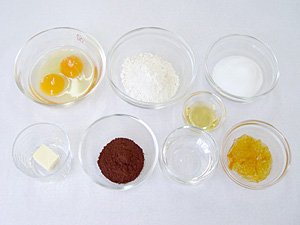 | | |
| --- | --- |
| whole eggs | 100g |
| sugar | 50g |
| cake flour | 40g |
| cocoa powder | 10g |
| butter | 10g |
| sugar syrup | 40g |
| orange liqueur | 10g |
| marmalade | 50g |
【Preparation】
- Sift together flour and cocoa powder.


Chocolate Cream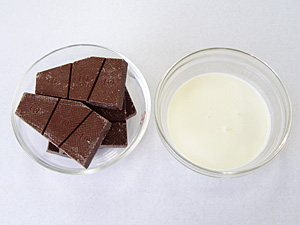 | | |
| --- | --- |
| chocolate | 200g |
| whipping cream | 100g |