●Sponge

Photo #1

Photo #2

Melt butter over low heat or by double boiling.

Combine eggs and sugar in a bowl. Place the bowl over low heat or in a large bowl of hot water and beat the mixture. When the mixture becomes lukewarm, remove the bowl from the heat and beat until creamy and heavy. (Photo #1)

Add flour and mix lightly. Then stir in the melted butter and blend until smooth.

Fill a baking pan with the batter to a depth of 2cm. Bake in a preheated oven at 180 °C (365 °F) for 15 minutes until golden. (Photo #2)


●Finish

Photo #1

Photo #2

Mix syrup and orange liqueur.

In a bowl, combine whipping cream and sugar. Beat until stiff. (Photo #1)

Cut the sponge into 2cm cubes.

Place the sponge cubes in a glass or a bowl. Brush with the syrup mixture. (Photo #2)

Pipe the whipped cream on top and sprinkle with cocoa powder as in the top photo.



Servings per Recipe
Calories per Serving
Ready In
5
one 18cm square baking mold
295kcal
90 minutes
Sponge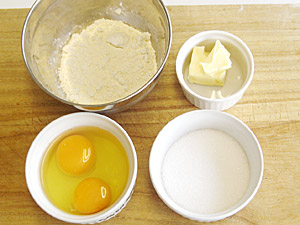 | | |
| --- | --- |
| whole eggs | 100g |
| sugar | 50g |
| cake flour | 50g |
| butter | 20g |
【Preparation】
 - Sift flour.


Finish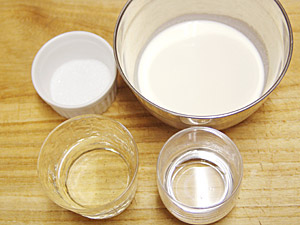 | | |
| --- | --- |
| sugar syrup | 60g |
| orange liqueur | 30g |
| whipping cream | 100g |
| sugar | 8g |
| cocoa powder | |