●Dough

Photo #1

Photo #2

Photo #3

Photo #4

Dice butter into small pieces.

In a bowl, combine flour, butter and salt. Rub the mixture between the palms of your hands until crumbly. (Photo #1)

Pour in water, a little at a time, and lightly knead the dough until smooth. Then press the dough together. (Photo #2)

Wrap the dough in plastic wrap and refrigerate for about one hour.

Divide the dough into three equal portions. Roll out each portion to 3-4 mm thick, slightly larger than the tart molds. If sticky, dust the rolling pin and the board with flour.

Press each dough into a tart mold. Roll the rolling pin over top of each mold to get rid of excess dough. (Photo #3)

Make small holes with a fork on the bottom. (Photo #4)

Bake in a preheated oven at 180 °C (356 °F) for about 30 minutes until golden.


●Cream

Photo #1

Photo #2

Photo #3

Heat milk until it almost comes to a boil.

In a bowl, cream together egg yolks and sugar. (Photo #1)

Stir in the hot milk to the egg yolk mixture, a little at a time, then add flour and blend well. Transfer the mixture into a saucepan and stir over low heat.

To prevent curdling, keep stirring the mixture while heating. When it comes to a boil and becomes glossy, remove from the heat and fold in 6 to 10 drops of vanilla essence. (Photo #2)

Transfer the cream into a shallow container and let cool at a room temperature. When cooled, press it through a sieve and beat until smooth and creamy. (Photo #3)


●Finish

Photo #1

Fill each shell with the cream 4/5 full. Top with a generous amount of seasonal fruit.



Servings per Recipe
Calories per Serving
Ready In
6
three 12cm tarts
216kcal
180 minutes
Dough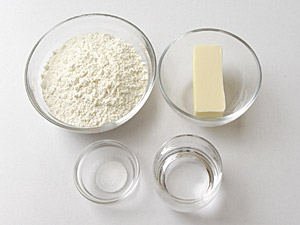 | | |
| --- | --- |
| cake flour | 100g |
| butter | 50g |
| water | 35g |
| salt | |
【Preparation】
- Sift flour.
- Chill butter well.

Cream
| | |
| --- | --- |
| milk | 200g |
| sugar | 50g |
| egg yolks | 40g |
| cake flour | 20g |
| vanilla essence | |